WEDDINGS have been our tradition for almost 100 years. Both Heurich daughters, Anita and Karla, were married in the mansion.
Conveniently located one block from Dupont Circle, the Heurich House Museum is a uniquely charming venue for your special day. Our bright and spacious Conservatory and secluded urban Castle Garden are the perfect settings for traditional and out-of-the-box weddings, from 2 to 125 guests alike.
A happy guest is no one's burden. (German proverb)
Give your guests a charming, one-of-a-kind experience at your standing reception or seated dinner. Centered in our spacious Conservatory or Castle Garden, your event will be an oasis in the center of the city. Need help crafting your special event? Our staff can help guide you towards excellent boutique vendors.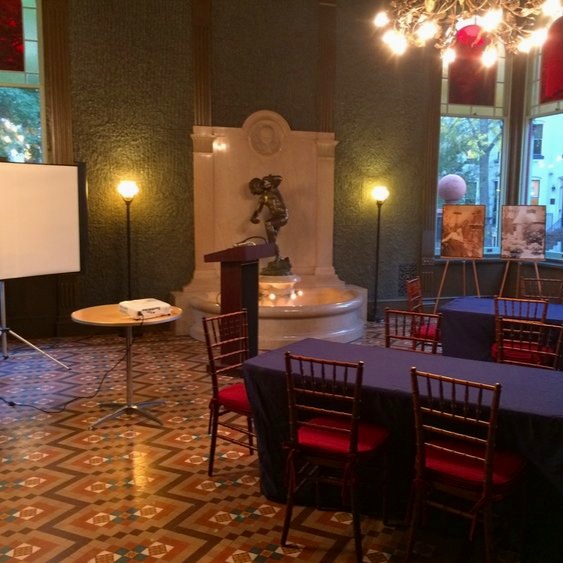 The purpose of art is washing the dust of daily life off our souls. -Pablo Picasso
Take your meetings out of the office and get inspired by the hand crafted beauty of the one-of-a-kind Heurich mansion. Located just one block off Dupont Circle, the museum is close many local hotels and businesses. Reasonable hourly rates include a/v equipment, tables, and chairs.
The Heurich House Museum is listed on the National Register of Historic Sites; protection of the original interiors and collections is of the utmost importance.
The Museum can provide both indoor and outdoor spaces for photography and filming. Sessions must start and conclude between 9:00am – 6:00pm, based on availability. The Heurich House Museum is closed in January and on Sundays.